Mr Grubb @ Oakdene
Casual Dining
Breakfast - Weekends Only

9:30am to 11am
Lunch - 7 Days
Monday to Friday - 12pm to 2pm
Weekends - 12pm to 3pm
Dinner - 7 Days
5:30pm to 7:30pm (last orders)
Coffee & Cake - 7 Days
Daily - From 11am
Nibbles - Weekends Only
3pm to 5:30pm
Mr Grubb Closes at 9pm
Please note that Mr Grubb does not take bookings
Bookings are only required for groups of 10+ people.
Please note: A surcharge of 20% will apply on public holidays.
Surf N Turf
Friday Nights in August
$35 per person
Experience the tantalising treat of Mr Grubb's latest extravagance 'Surf N Turf'.
Due to the overwhelming success of our inaugral Surf N Turf nighs in July, we have extended it to run on Friday nights in August as well.
Enjoy Mr Grubb's famous Black Angus Grain Fed Porterhouse Steak topped with half a Crayfish tail, garlic herb, lemon butter & beer battered chips.
Friday nights at Mr Grubb @ Oakdene from 5:30pm.
This is a 'First in Best Dressed Deal' as numbers are limited.
---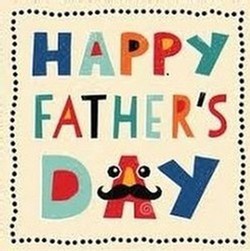 Father's Day at Mr Grubb
Sunday 2nd September
Lunch & Dinner - 3 Courses for $49 per person
Breakfast - $25 per person
What would we do without dads? Did you know that Father's Day is a celebration honoring fathers and celebrating fatherhood, paternal bonds, and the influence of fathers in society.

Spoil dad this Father's Day with an exquisite 3 course lunch or dinner in our cafe for just $49 per person (excluding beverages). Download Father's Day Lunch and Dinner Menu.
Childrens meals are $15 which includes an ice cream and a drink.
Father's Day breakfast is also on offer at Mr Grubb with orange juice/apple juice, standard tea/coffee and a choice of 4 delicious dishes from our breakfast menu. Download Father's Day Breakfast Menu.
We require full payment to secure your booking. Bookings can be made by calling our cafe on 03 5255 1255 or email mrgrubboakdene@oakdene.com.au.
---
Christmas Events at Oakdene
Mr Grubb @ Oakdene
$39 per person for 3 courses
With the festive season fast approaching, Oakdene is the perfect venue to hold your corporate and Christmas event. Set on rustic coastal farmland, Oakdene is the ideal location situated only 20 minutes from Geelong.
Come and join us for your Christmas festivities at Mr Grubb.
Mr Grubb's Christmas Menu is the perfect way to celebrate the festive season, be it with family, friends or work colleagues, it represents great choice and value for everyone.
This Christmas Menu is available for lunch or dinner through December for groups of 10 people and over.
A deposit of $100 is required to secure the booking.
For all Mr Grubb Christmas function enquiries, please contact call (03) 5255 1255 or email mrgrubboakdene@oakdene.com.au.
---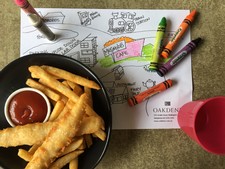 Free Kids Meals
Sunday, Monday & Tuesday nights
To celebrate our new opening hours (we are now open for Dinner 7 nights a week), kids under 12 can eat for free Sunday, Monday & Tuesday nights.
Crumbed Chicken Nuggets & Chips | Penne Pasta, Tomato & Mozzarella (V) | Fish & Chips
Note: this offer applies to main courses only for children 12 years & under, dining from the Mr Grubb Kids Menu. Maximum 1 child per adult.
---
Mr Grubb's Ripper Roasts
Wednesday & Thursday Nights Only in August
2 Course Early Evening Dinner @ $25 per person
Enjoy alternative weeks of our Ripper Roasts at Mr Grubb for just $25 per person on Wednesday & Thursday nights throughout the entire month of August.
Roast Beef & Yorkshire Pudding
Grain fed Victorian roast sirloin served with Yorkshire pudding & traditional roast vegetables with an Oakdene red wine gravy. Raspberry & white chocolate bread & butter pudding & vanilla custard.
Crispy Roast Pork Belly and Rhubarb and Apple Crumble
Roast pork belly served with chunky roast potatoes, butternut roast pumpkin, roast vegetables, apple sauce and cider gravy. Home baked rhubarb and apple crumble with vanilla custard.
All your menu favourites will still be available from the Mr Grubb a la carte menu including the ever popular $16 specials.
This is a first in best dressed deal. Numbers are limited & it won't last long.
---
Senior's Special @ $20 per person
Lunch on Monday's and Tuesdays
Take advantage of our Monday and Tuesday Seniors Special with lunch for just $20 per person.
Choose between Fish & Chips or Soup with a Toasted Sandwich and finish your meal with a scone, jam and cream. Tea and Coffee is also included in this fantastic price.
---
$16 Mr Grubb Specials
Every Night
Due to popular demand, we have added even more $16 Specials to our dinner menu. Select from a larger range of $16 Mr Grubb Specials including scrumptious new dishes: Mr Grubb Chicken Parma, Mr Grubb Black Angus Cheese Burger, or Mr Grubb Field Mushroom Burger.


The famous $16 Steak 250g Black Angus 150 Day Grain Fed Porterhouse served with creamy mash potato or our famous beer battered chips and choice of Green Peppercorn Sauce or Blue Cheese & Mushroom Sauce remain on the menu, along with the Mr Grubb Seafood Pie and $16 Pizza's.
We also offer a limited a la carte menu, so you can still enjoy your favourite Mr Grubb dishes. Available Every Night from 5:30pm. Download Menu
---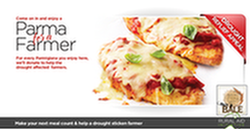 Order a Parma at Mr Grubb and
Support Aussie Farmers in Crisis
With many farmers suffering through one of the worst Droughts Australia has experienced; Parma for a Farmer is an effort to help raise money for those in the need.
Parma for a farmer is an initiative that sees restaurants, eateries, hotels and clubs across Australia donate proceeds from parma sales to help drought stricken farmers.
Mr Grubb @ Oakdene is proud to support this exciting initative and will donate $1 for every parma sold to the Buy a Bale Campaign.

Who can resist the chance to help our struggling farmers and dine on our delicious Mr Grubb Chicken Parma for just $16 (Panko Crumbed Chicken Breast, Leg Ham, Napoli Sauce, Swiss Cheese & Mozzarella served with Chips).
---
Casual Dining Options - Mr Grubb Cafe
LUNCH MENU (Download Menu)
DINNER MENU - $16 MR GRUBB SPECIALS (Download Menu)
BREAKFAST MENU (Download Menu)
NIBBLES MENU (Download Menu)
DRINKS MENU (Download Menu)
GROUP MENU - All parties of 10 or more people are required to dine from our group menu (Download Group Booking Information Pack)
Please note that the menus are subject to seasonability and availability.
---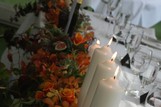 Private Functions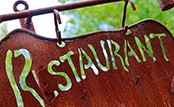 Restaurant - Marty @ Oakdene