Marty @ Oakdene
Contemporary Dining
Open for Lunch: Weekends Only from 12.00pm
Open for Dinner: Wednesday to Saturday from 6.30pm
A 20% surcharge is applied on all Public Holidays
| | |
| --- | --- |
| Restaurant Bookings | See Our Review On Trip Advisor |

Renowned as a fantastic addition to the Bellarine Peninsula with absolutely flawless execution and presentation, Marty @ Oakdene (formerly known as Oakdene Vineyards Restaurant) boasts a modern Australian and European cuisine with an array of fresh local produce. Award winning Executive Chef & Owner, Welshman Marty Chichester previously owned and managed popular restaurants in Wales and Sydney.
The menus at the contemporary dining Marty @ Oakdene are designed using local and regional produce, giving our patrons a wide variety of carefully prepared dishes representing seasonal ingredients with unique flavours and textures that will suit all tastes. Various dining options are available, including a la carte and degustation menus.
Most recently, after 13 years of blood, sweat and tears Marty has taken over the company reigns of the restaurant and is determined to carry on the continued success and loyal following he has accumulated over the years.
Marty's vision for the future of Oakdene (especially the restaurant) is that it will become a dining complex that can cater for all occasions and budgets.
Marty has recently introduced a new a la carte menu which is designed to carry on the tradition of representing local and regional produce. The food will still include a high level of presentation and execution followed by the exceptional service that has been the forefront of the restaurant since the day it started.
For intimate occasions, we also have private spaces available (the Cloud Room and the Chocolate Room. Function Spaces. Oakdene also caters for conferences, functions, weddings and special events and is simply a place to experience, not just to visit.
Can I bring my pooch?
Marty @ Oakdene Restaurant is located on Oakdene Vineyards, as this is a working vineyard, we do not allow dogs on the property. We thank you for your understanding.
Oakdene Vineyards Cellar Door Wine Club Member Discounts
As an Oakdene Wine Club member you can receive a 10% discount when dining at Marty @ Oakdene restaurant. You are entitled to a 10% deduction off the total bill for the table, up to a maximum of $30. This offer is strictly limited to one Wine Club Membership per party. The 10% restaurant/cafe discount cannot be used with any other offers and excludes public holidays, January, Saturday nights and any special events/offers.
---
Wednesday & Thursday's are Pasta Nights @ Marty's
House-made pasta, decadent dessert, why bother cooking?
Enjoy dining at Marty's on Wednesday & Thursdays nights throughout March with our 2-Course Pasta Night special for $35 per person*. Prepared in house for the week, one special pasta dish followed by a delicious mouth-watering dessert. Our chef's will surprise and delight diners with a different pasta & dessert each week to make you come back for more!
Please note there is no choice available with this menu, our A La Carte menu will be available for diners not wishing to dine from this 2-Course special offer.
For reservations, call us on 03 5255 1255 or follow our online booking links from www.oakdene.com.au/Restaurant
*Entertainment card & other discounts are not able to be used for this menu
---
Mid Week Dinners are Back in April
Wednesday & Thursday Nights Only
3 Courses for $39 per person
Do you owe yourself a delicious mid-week dinner?
How does a mouth-watering 3 Course feast sound?
Marty @ Oakdene has created just that - a delightful 3 Course Dinner lovingly crafted from the freshest local ingredients.
All for just $39 per person! Download Sample Menu.
It's the delicious way to finish your hump day.
For reservations, call us on 03 5255 1255 or follow our online booking links from www.oakdene.com.au/Restaurant
Note: This is the only menu available on Wednesday & Thursday nights in April
Note: Entertainment Cards cannot be used for these dinners.
---
Scrumptious Sunday Lunches
Every Sunday in April
3 Courses for $49 per person
You simply can't beat a traditional style 3 Course Sunday lunch with friends and family, especially when you're amongst the vines at Marty @ Oakdene!
Throughout April we'll be giving you all the ingredients you need for a good ol' fashioned Sunday Lunch with your loved ones.
Each week our world-class chefs will unveil a delectable new 3 Course menu for just $49 per person! Download Sample Menu.
You'll get a traditional taste of the Bellarine every weekend!
For reservations, call us on 03 5255 1255 or follow our online booking links from www.oakdene.com.au/Restaurant
Note: This is the only menu on Sundays in April.
---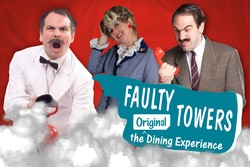 Faulty Towers - The Original Dining Experience
Friday 10th May at 7pm
$140 per person
3 Course Meal, Drinks & 2 Hour Show
With over 21 years of globetrotting success, Faulty Towers The Original Dining Experience continutes to go from strength to strength, picking up 5* reviews wherever it plays. Expect the unexpected in this hilarious tour de force that makes you 'laugh so much you can't breathe' (GetWestLondon).
Chaos reigns right from the start as Basil, Sybil and Manuel serve a 3 course meal along with plenty of laughs. Totally immersive, it's a true blend of ingenious comedy and unique theatrical script, creating an experience that's perfect for comedy fans, theatre fans, and anyone who just fancies going out for a meal they'll never forget.
A loving tribute to the BBC's best-loved sitcom, this internationally acclaimed show was born in Australia in 1997 and now tours the world non-stop. This year's tour travels some 20 countries - catch it at Marty @ Oakdene on Friday 10th May.
Reservations are essential and full payment is required to confirm all bookings.
To book, call us on 03 5255 1255 or Book Online.
---
Contemporary Dining Options - Marty @ Oakdene
A La Carte Menu (Download Menu)
4-Course Regional Tasting Menu (Download Menu)
2019 Group Function Packages (Groups of 8 & above) (Download Function Package)
Children's Menu (ages 12 & under) (Download Menu)
Please note Marty @ Oakdene does not have High Chairs
Wine List (Download Wine List)
Please note that these are sample menus only and are subject to seasonality and availability