TOP

1 December 2014 | Articles | Oakdene Restaurant
Chef's Work Never Done (Geelong + Surf Coast Living Magazine - Summer 2015)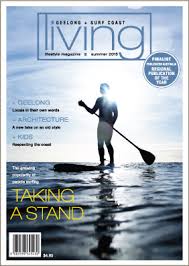 These days' lots of us love to cook, but that doesn't mean we do it all day long. Chefs do, five to six days a week, sometimes up to 14 hours a day.
During that time, chefs aren't just cooking, but shopping, planning, managing, ordering, calculating, cleaning, sweating, running, repairing and, hardest of all, waiting. It's not quite blood, sweat and tears, but it is close.
Being a chef can also be rewarding, and, combined with a healthy dose of passion, it starts to look like a decent way to earn a living especially if you're prepared to work 70 or 80 hours a week!
Just don't expect any glamour in a schedule like this. After many years, bags appear under the eyes, you get hunched shoulders, dodgy knees, high blood pressure and your diet can be almost non-existent.
Marty Chichester, is one chef who has and lives that life. Marty, 46, has been on the cooking scene for nearly 30 years. But he really made a name for himself with the wildly popular Oakdene Vineyards Restaurant in Wallington.
It hasn't come without sacrifice Marty explains! Two marriages and a number of relationships later he's still funnily enough positively passionate about his profession.
Working alongside Owners Bernard & Elizabeth Hooley, HooleyOakdeneOakdene has been transformed into what Marty believes is the premier dining destination on the Bellarine Peninsula. With the food, art, sculptures and the amazing eclectic gardens Oakdene has become a true destination for all visitors to the Bellarine.
Oakdene opened with a bang in 2004, offering a contemporary market-based cuisine at a med-high price, following Marty's philosophy that "technique-driven cooking made with simple ingredients gives as good a result as food made with luxury ingredients."
Ten years later, The Hooleys along with Marty are planning to open their second restaurant "Mr Grubb@Oakdene" which is aimed at a more casual market. "We will be offering pizza, fish & chips and lots of share plate options, so we hope the local crowd from Ocean Grove and the surrounding areas will come in force" says Marty.
The new restaurant will be located on the vineyard alongside the famous Upside-Down House; and with its modern and trendy food, will have tremendous draw – especially for foodies on a budget. MrGrubb@Oakdene is due to open in December so watch this space.
Marty is constantly on the move. When he's not chopping something, he's planning menus, organizing staff schedules, taking reservations or teaching his latest kitchen hand how to clean a scallop.
If he over-orders, there's waste; if he under-orders, he'll be scrambling. And every one of those moves is based on years of experience. "In a small kitchen like this," he says, "everyone does everything. There are no set jobs. But if the plates go wrong, I have no one to blame but myself."
That pressure is ever-present in a chef's life. "I'd be lying to say I wasn't tired at the end of the week," he says. "And being in 'the Shit,' 'the juice,' or whatever you call it (playing catch-up), is never enjoyable. But I like the flow of the service, seeing the plates coming back empty, the smiles of the customers. If they're enjoying themselves, I've done something right."
Comments