TOP

12 September 2014 | Articles | Oakdene Restaurant
Fun in Foraging (Geelong + Surf Coast Living Magazine - Spring 2014)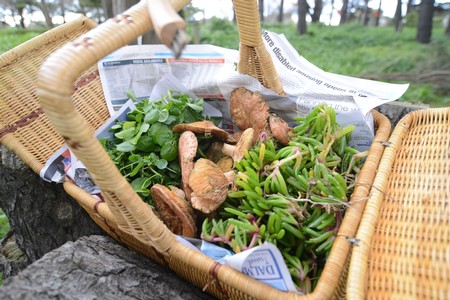 A foraging day for the kitchen team at Oakdene is the highlight of the week. Executive Chef Marty Chichester says "We love this time of year because lots of our favourite ingredients are in abundance right on our doorstep, from pine mushrooms to sea succulents, and wild watercress to sea lettuce."
What's even more exciting for the Oakdene chefs is the buzz of heading out to our secret spots around the Bellarine foraging for the wild ingredients and then bringing them back to the Oakdene kitchen to experiment with. This is when the real fun starts!
Like Danish chef Rene Redzepi and New Zealand-born Ben Shewry, of Ripponlea's Attica, Marty and his team are rediscovering the ancient art of foraging; putting wild edibles that many consider weeds and poisonous fungus back on the plate.
But it's not just a chef thing. Marty sees lots of European & Australian families out foraging on the Bellarine. It seems anyone with a passion for food, it's origin and adventure are all heading out to see what the area has to offer. It's a haven for a great day of discovery.
Marty also says he loves getting customers from his cooking class and his apprentices at Oakdene who would never think of eating a weed to try a few things. As he tells people, they're free, they're abundant, they're nutritious and they're delicious.
A common overlooked wild weed is Pursalane. ''Purslane is crunchy and a little bit lemony. It's fantastic in salads or sandwiches - and is one of highest plant sources of [the fatty acid] omega-3.'' explains Marty.
Purslane is not the only leaf that abounds in the suburban parkland. ''If I want to make a salad, I just go out and see whatever's out there and just pick a small handful without disrupting the plant too much,'' he says.
"We are even picking wild watercress at the moment, at a dam near the side of the road on the highway. These amazing wild ingredients grow in the strangest of places" says Marty.
Marty recommends novices start in their own backyard, or those of friends and neighbours, gathering plants that are easy to identify before heading into the wild.
''Look in the most unkempt- looking places you can. A fairly manicured looking park is the worst place to look because they're probably poisoning it and a lot of dogs are usually being walked there. Get off the beaten track a little.''
Autumn and spring are the best times to forage on the Bellarine but even in winter mushrooms, nettles and dandelions can be found, he says.
Picking edible weeds is safer than gathering wild mushrooms but it's important not to eat anything you can't positively identify, he says.
Be adventurous with wild produce but keep the preparation and dressings simple. You can really appreciate the amazing textures and flavours they add to many dishes.
Comments