TOP
Oakdene News & Events

Dimmi Award 2013

Oakdene Vineyards Restaurant has won a Dimmi Award for 2013. We've been selected as a 'TOP RATED MODERN AUSTRALIAN RESTAURANT'. This means we've been recognised as one of the top rated restaurants for Modern Australia in Australia. What makes this award even more special is that it's not just the opinion of one person or even a handful of people; this is the collective opinion of over 250,000 diners as part of the Dimmi Score Program.
Congrats to all the staff who work tirelessly in the restaurant.

Savour Australia™ Restaurant & Catering HOSTPLUS Awards

The entire team at Oakdene Vineyards Restaurant were delighted with a win in both of its categories in the 2013 Savour Australia™ Restaurant & Catering HOSTPLUS Awards for Excellence – Victoria.
Victorian Winner - 2013 Restaurant in a Winery
Victorian Winner - 2013 Tourism Restaurant
The Awards for Excellence are judged by a team of trained judges who anonymously visited the venues to determine the winners. The Awards program recognises the Industry's commitment to service and quality.
Representing Victoria, Oakdene will now compete with venues from across Australia in the National finals, so stay tuned.

MEDIA RELEASE November 2012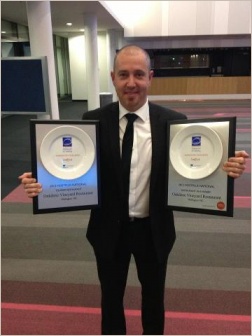 Executive chef Marty Chichester proudly showing Oakdene's two National Awards for Excellence.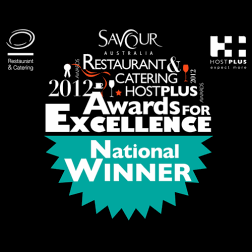 Iconic Oakdene Vineyards Restaurant has been awarded 'Best in the Nation' twice, winning two awards at the 2012 Savour Australia™ Restaurant & Catering HOSTPLUS Awards for Excellence.
National Winner - Restaurant in a Winery
National Winner - Tourism Restaurant
The Awards for Excellence program has seen its 15th year and the National event is a culmination of winners from 9 events held around Australia, with the National winners being recognised for their outstanding commitment to quality and service at the industry's gala night of night's celebration held at Brisbane Convention and Exhibition Centre.
Through the RACES Evaluation System, venues were assessed by trained judges who dine anonymously and review the experience according to a predetermined, research-based and standardised set of criteria, making it the only truly systematic restaurant industry awards program in Australia. The judging process provides a benchmark for businesses that are involved and is specifically designed to objectively recognise and promote industry best practice.
John Hart, CEO Restaurant & Catering commented, "Restaurant & Catering congratulates all the winners and finalists in the 2012 National Awards. Their achievement in providing great food and great service is in itself, a wonderful contribution to the industry.
The Awards for Excellence represent an important moment as the industry pauses to honour these outstanding venues for their great talent, innovation and commitment and to celebrate such well-deserved accolades". Executive Chef Marty Chichester & Front of House Manager Michael Davis proudly accepted both awards last night, thanking their entire team at Oakdene.
They were shocked & overwhelmed to receive such a prestigious award, in such a highly competitive market. "It is always a huge team effort at Oakdene & we are very excited about winning both awards."
Oakdene owner's Bernard and Liz Hooley were thrilled to win both awards. "It's a great achievement by all concerned, backed by outstanding wines, great food & service and a fantastic venue."


Best Restaurant in a Winery - Oakdene Vineyards Restaurant