TOP
Oakdene News & Events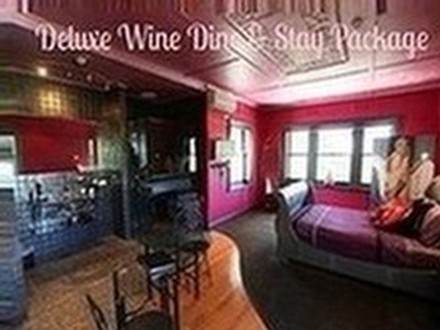 Deluxe Wine, Dine & Stay Package $400 (Usually $450)
Celebrate winter at Oakdene with our 'Deluxe Wine Dine & Stay Package' including a night's accommodation, free wine tasting in our Upside-Down House cellar door and a 4 course tasting menu with matching wines at the fine dining Oakdene Vineyards Restaurant. The package also includes breakfast onsite at our cafe Mr Grubb @ Oakdene.
Usually $450, BOOK NOW to receive a $50 discount. Available from June to September only.

Oakdene Celebrates Christmas - Every Sunday in July
3 Course Lunch $59 per person (excluding beverages)
Celebrate Christmas in July with the Oakdene team as we indulge ourselves in a month of exceptional Sunday Lunch dining, designed around your favourite Christmas classics.
Enjoy warm mulled Oakdene wine with Smoked Salmon & Caviar Blini on arrival, followed by entree, main and dessert. Download Menu.
Bookings are essential so please call 03 5255 1255 or email restaurant@oakdene.com.au. Please note that a deposit of $50 per booking is required to confirm your booking.
On Arrival
Warm mulled Oakdene wine
Smoked Salmon & Caviar Blini
Entree
Prawn & Lobster Cocktail
Chestnut & Leek Soup
Chicken, Pork & Duck Terrine, Fig Jam & Sour Dough
Main Course
Roast Turkey Galantine, Chipolatas, Sage & Onion Stuffing, Cranberry Sauce & Gravy
Roast Sirloin of Grain-Fed Beef, Yorkshire Pudding, Horseradish Sauce & Oakdene Shiraz Gravy
Atlantic Salmon, Roasted Baby Zucchini, Lemon Butter Sauce
Desserts
House Made Christmas Pudding, Brandy Sauce
Raspberry & Hazelnut Pavlova
Selection of Cheese & Biscuits
All main courses are accompanied with roasted seasonal vegetables


Come and enjoy an amazing night at Tulip Bar and Restaurant, Geelong. Oakdene will be matching wines from their current and museum cellar with a stunning menu put together by Tulip. For all you foodies out there, this is one NOT to be missed.
Oakdene Vineyards
Dinner at Tulip Restaurant
Thursday 9th June 2016
5 Waves & Matched Wine for $110pp
6:30pm for a 7pm Start
Call 5229 6953 to Book
Menu
Olives
Salad of Carrots, Shanklish & Saltbush
Cured Salmon, Buttermilk & Celery
2012 Matilda Blanc de Noirs
_________________________
Poached Rockling, Parsnip, Lentils & Eel
2013 Liz's Single Vineyard Chardonnay
2008 Liz's Single Vineyard Chardonnay
_________________________
Otway Pine Mushrooms, Jerusalem Artichoke & Chestnuts
Dry Aged Duck, Radicchio and Celeriac
2013 Peta's Single Vineyard Pinot Noir
2008 Peta's Single Vineyard Pinot Noir
_________________________
Kangaroo, Shallots, Rye Cream, & Bitter Chocolate
Brussels Sprouts Parmesan and Swede
2009 William Single Vineyard Shiraz
_________________________
Quince Rhubarb Rose & White Chocolate
2015 Late Harvest Riesling
**All dishes are designed to be shared and will be served in waves
***Please advise us of any allergies

James Halliday's Wine Companion has reviewed the current release of our Single Vineyard William Shiraz 2014. See below some great words form Campbell Mattinson giving it a fantastic 96 points. For the record, this is the fifth vintage in a row the wine has received 95 points or higher from James Halliday's Wine Companion. ($43.00 a bottle)
"In beautiful form. Meat and spice notes galore but with plush, ripe, generous fruit as a flood of seductive power. Tannin is smoky, filigreed, and deceptively firm. The longer you spend with this wine the more it impresses. It's stellar."
Drink By 2030
Campbell Mattinson
James Halliday Wine Companion 2016

Wednesday to Saturday Evenings at Mr Grubb Cafe -
$15 Steak, Pizza & Pie
Due to popular demand we will be combining and extending our $15 Steak, Pizza and Pie nights. Mr Grubb will now offer our $15 DINNER SPECIALS EXTRAVAGANZA from Wednesday to Saturday nights from May.
This means you can enjoy a larger range of $15 meals at Mr Grubb from Wednesday to Saturday for dinner from 5:30pm. We also offer a limited a la carte menu, so you can still enjoy your favourite Mr Grubb dishes.
$15 Steaks
We will be offering a selection of two steaks served with creamy mash potato or our famous beer battered chips.
Rangers Valley Black Onyx 150 day grain fed rump 250g
Black Angus 150 day grain fed porterhouse 250g
Steaks come with a mushroom and garlic or brandy and green peppercorn sauce.
$15 Pies
You can also choose from 2 pies, served with our famous beer battered chips or creamy mash potato
Mr Grubb Beef Steak and Shiraz Pie - Braised eye fillet steak, in a rich Oakdene red wine gravy topped with puff pastry.
Mr Grubb Fisherman's Seafood Pie - Barramundi, calamari, tiger prawns and local mussels braised in a creamy wine and herb sauce topped with puff pastry.
$15 Pizzas
Choose from 2 $15 pizzas, which are also available as gluten free upon request (additional $3).
Pumpkin, Feta, Peas, Cashews and Snow Pea Shoots Pizza
Pepperoni, Spanish White Anchovy & Roast Garlic Pizza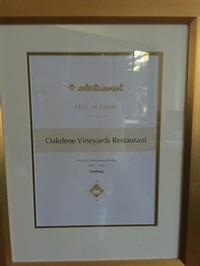 Fine Dining Inductee
Oakdene Vineyards Restaurant has been inducted into the Entertainment Hall of Fame for Fine Dining. Hall of Fame inductees are recognised for winning at least three Entertainment Awards in their respective categories.
Oakdene is proud to be a valued participant in both the Geelong and Ballarat, and Melbourne Entertainment Card Books since the Geelong book launched several years ago. By purchasing the Entertainment Card Book, members can enjoy a 25% discount off the total bill at the restaurant up to $40 value.


Sunday 8th May 2016
Oakdene Vineyards Restaurant - $79 per person (excluding beverages)
Mr Grubb Cafe - Normal Menu
What would we do without mums? Did you know that Mother's Day is celebrated to honour mothers and to express gratitude for the hardships they bear in bringing up a child? Spoil mum this Mother's Day with an exquisite 3 course lunch in our award winning restaurant Oakdene Vineyards Restaurant or dine with our normal cafe menu at Mr Grubb @ Oakdene.
To book, please call 03 5255 1255 or email restaurant@oakdene.com.au or mrgrubboakdene@oakdene.com.au

We are thrilled to announce that Oakdene Vineyards Restaurant is a 2016 Dimmi People's Choice Awards winner, winning the following categories for 2016:
Best for Special Occasion
Best for Atmosphere
Top Rated Modern Australian
Top 100
What makes these awards special is that it's not just the opinion of a single critic or even a handful of people; this is the collective opinion of over 1 million diners as part of the Dimmi Score Program. These awards are received by being consistently highly rated by real diners.

Oakdene's End of Summer Blues.
A Six Pack Special Offer
For Wine Club Members Only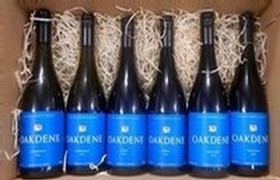 Can you believe it? Summer is over, it's an end to the heat, the sun and alot of fun. At Oakdene we have come up with a six pack offer, End of Summer Blues, that may very well help you to get over it.
Have you tried any of our blue labels yet? We would love you to try three of them; the 2014 Oakdene Chardonnay, the 2014 Oakdene Pinot Noir and the 2014 Oakdene Shiraz. There will be two bottles of each in the pack. The blue labels are made ready to drink and would be perfect for a dinner party or just to have on the rack ready to share with friends or enhance warm autumn flavours and tasty cheese boards.
The six bottles of wine would normally cost $144.00 but as a Wine Club Member you already enjoy 10% off all of your orders, that would bring the price down to $129.60. We would like to offer all our loyal Wine Club Members an extra 10% off, bringing this pack down to $116.64.That's almost a 20% saving. JOIN NOW
All of these blue label wines have been reviewed and awarded great scores by judges that you know and trust.
Mike Bennie has reviewed the 2014 Oakdene Shiraz in the last issue of WBM and scored it a fantastic 92 points. "Flighty, frisky feeling Shiraz shows some herbal influence, dusty tannin, slippery texture. It's set to medium bodied, looks great as a young wine (decant!) but feels like there's plenty in reserve for mid-term cellaring. Elegant is a good word here."
Gary Walsh has scored the 2014 Oakdene Chardonnay 89 points for Winefront. So...what are you wating for? A Chardonnay with no name from Oakdene. That's a change! Peach and green banana, subtle oak. Sunshiny fruit, but with a good cut of acidity and some greener flavours coming through on the finish. Pretty good.
The 2014 Oakdene Pinot Noir has also been given a great review but you are going to have to wait until the end of the month for this one. Stay tuned!
The End of Summer Blues offer is only for the first 100 wine club members or until the end of March. Take advantage and order this 6 pack today! Buy Now.



Mr Grubb Cafe - Friday Nights
Try our spectacular $15 FRIDAY PIE NIGHT.
Choose from a selection of 3 pies, served with our famous beer battered chips or creamy mash potato
Mr Grubb Beef Steak & Shiraz Pie - Braised eye fillet steak, in a rich Oakdene red wine gravy topped with puff pastry.

Mr Grubb Fisherman's Seafood Pie - Barramundi, calamari, tiger prawns & local mussels braised in a creamy wine & herb sauce topped with puff pastry

Mr Grubb Chicken, Leek & Sweet Corn Pie – Chunky pieces of free range chicken, shredded leek & sweetcorn wrapped in crispy buttered filo pastry