TOP
Oakdene News & Events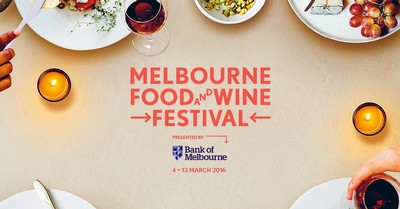 60 of the state's best wineries come together to celebrate all that is fine about Victorian wine. Sip, sample and savour the state's best drops on the lush green lawns overlooking the Yarra. With live music and tasting plates of outstanding regional produce, meet us at the City Cellar for a weekend of fun for the wine curious. The city Cellar will be held from the 4-6 March at the MCEC Lawn, 1Convention Centre Place, South Wharf. Oakdene will be there on the 4th so come and say hi and taste some our wines. It is a ticketed event so to get one just visit, www.melbournefoodandwine.com.au.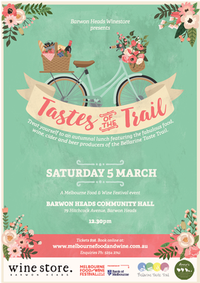 Barwon Heads Winestore is presenting Tastes of the Trail. A delicious event that celebrates the bountiful produce that can be found on The Bellarine Taste Trail. The lunch will consist of three courses with matched beer, wine and cider from the Bellarine. All dishes will be prepared by Annie's Kitchen.
When: Saturday 5th March 2016 from 12.30pm
Where: Barwon Heads Community Hall, 79 Hitchcock Avenue, Barwon Heads
Price: $98.00pp including all 3 courses and matched wine, beer and cider
How: Tickets can be purchased via the Melbourne Food and Wine Festival website, www.melbournefoodandwine.com.au
Oakdene will be showcasing the 2013 Bernard's Cabernet, it will be a great day out so come along and enjoy the day and the region.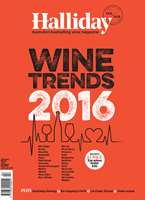 In the Feb/March edition of Haliday Magazine, Casey Warrener has written a lovely article about Geelong wine and its surrounding wine regions. She had a little bit to say about Oakdene throughout the acticle but this is a little snipet she wrote about us called 'Broad Appeal.'
Featuring accomodation, a fine dining restaurant, an unfussy cafe and a quirky orchard, there is something for everyone at Oakdene. Oakdene's wine is crushed and produced at what wine director Steven Paul affectionately calls 'Scotcho's.' Steve manned the cellar door at Scotchmans Hill for a number of years. "Scotcho's have always made crazy wines. They're looked apon as quite mainstream because they are the largest producer in the region, but as long as I've known them they have played around with new styles."
Experimental winemaking has worked in Oakdene's favour. Their Jessica's Sauvignon, modelled on an age-worthy style produced under Scotchman's Cornelius label, is a best seller at the cellar door and has been well received by industry. "We started selling our barrel-fermented style into Melbourne and sommeliers said it is a Sauvignon Blanc they actually wanted to drink," says Steve.
Like Robin, Steve is of the opinion that shiraz is on the march in Geelong. "Bellarine shiraz is spice and pepper, sinilar to a Rhone style. It's differnet from your traditional Australian styles. Our shiraz is a clone from the Best's vineyard's 1860s plantings, which gives it a generosity of red fruit," says Steve. "The 14 William Shiraz has been in 4 shows and already taken out 3 gold medals."
Since this has been written the 2014 William Shiraz now has 4 gold medals from Ballarat, National, Royal Melbourne and Victorian wine shows. For more information about our wines just visit oakdene.com.au.

Sunday 14th February
Oakdene Vineyards Restaurant -
$79 per person or $114 per person with matched wines
Treat your special someone to an exquisite 3 course dinner at Oakdene Vineyards Restaurant for Valentines Day. Or, if you're not quite that romantic or just hate the commercialisation of Valentines Day, bring some friends and enjoy the night anyway - Oakdene can still offer you a fantastic night out, with exquisite food and wine.
Bookings are essential and payment is required to confirm booking. To book call 5255 1255 or email restaurant@oakdene.com.au

Mr Grubb Cafe - Wednesday & Thursday Nights
Jump on board for our special Wednesday and Thursday night $15 Steak or $15 Pizza Extravaganza.
We are offering a selection of two steaks served with creamy mash potato or our famous beer battered chips.
Rangers Valley Black Onyx 150 Day Grain fed Rump 250g
Black Angus 150 day Grain Fed Porterhouse 250g
Steaks come with a mushroom & garlic or brandy & green peppercorn sauce.

Sunday Afternoons from 2pm (from December) at Mr Grubb Cafe
Mr Grubb Cafe will be featuring the fantastic sounds of John Willard on Sunday afternoons from 2 pm.
John Willard is a local who is well known for his variety of genres and his exceptional guitar skills. He has played many venues and festivals throughout Geelong, Melbourne and the Coast and has supported and shared the stage with the likes of Ross Wilson, Mental as Anything, Daryl Braithwaite, Ross Hannerford, Phil Manning, and Shane Howard.
Sit out on the lawn (blankets supplied) and relax with a glass of Oakdene wine while enjoying the sunshine.

Oakdene Vineyards Restaurant $195 pp
Thursday 31st December 2015
Join in the New Years Eve Celebrations this year at Oakdene Restaurant. Celebrate the end of another year and welcome in 2016 with a dinner party at Oakdene Vineyards Restaurant with a 'Bonnie and Clyde' theme. This is our first New Years Eve in 12 years, so be sure to join us for an unforgettable evening.
Marty and the award winning kitchen team will host a 6 course degustation dinner showcasing some of Australia's finest produce. Each course will be served with your favourite Oakdene wines along with some back cellar vintages which have been carefully selected by our restaurant manager Pam Clark and the front of house team.
Featuring Ben Calderazzo and The Hot Club Swing Quintet & a glass of French Champagne at midnight. This is an event not to be missed.
Festivities begin at 8pm and conclude just after the clock strikes midnight.
Dressing in character is NOT required
Bookings are essential & full payment is required to confirm booking.
To book, please call 03 5255 1255 or email us at restaurant@oakdene.com.au


Extravaganza brings winemaker's, producers, brewers, chefs and food educators together to share and celebrate the region's provenance, all under the one roof. Come and meet some of the Oakdene team and taste some of our wines plus new releases. You will find us at Deakin University, Geelong Waterfront,1 Gheringhap St. Geelong from 10am - 6pm on the 17th of October. Come and spoil your taste buds.
For more information click here!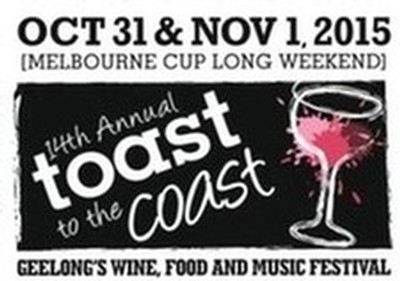 Come and join Oakdene and 25 other wineries over the Melbourne Cup Long weekend for the celebrated Toast to the Coast. This will be the 14th year of the festival which showcases the Geelong regions wines and produce on a grand scale. Get amonst the fun and check out all the details.
We will be offering tastings of our award winning wines and new releases at the 'Upside-down House' Cellar Door. After your tasting, step outside into the heart of Oakdene. Take a seat, enjoy a glass of wine and soak up the atmosphere amid live music and delicious food.
We have a selection of dining options at Oakdene.
Oakdene Belgian Waffle stall - both sweet and savoury
Enjoy Pizza's & Burgers dining amongst the Birch trees at the new Mr Grubb Café or in the Oakdene Vineyards Restaurant garden
Sit down to fine dining in the award winning Oakdene Vineyards Restaurant
We will also be taking care of the entertainment.
Live music with Jon Willard Saturday and Sunday from 12pm - 4pm.
Vineyard tours aboard the Oakdene Train - Tour the property, take in the stunning gardens, the llamas and alpacas plus other exciting sites.
The Royal Flying Doctors are our special guests for Toast to the Coast, displaying their interactive Aeromedical Simulator for the weekend. It is a life sized and fully equipped replica of a flying doctor's plane for the public to explore.
Visit Oakdene for a unique and eclectic experience. With something quirky and fun around every corner and behind every tree, there are many new things to discover.

Tuesday 3rd November
$60 per person (beverages at bar prices)
Celebrate Melbourne Cup Day in style with fabulous food, fashion and fillies in the Oakdene Gardens. Enjoy the carnival atmosphere of Race Day in the restaurant garden marquee and watch the excitement unfold at Flemington. Dress in your Race Day finest to be in the running to win Best Dressed on the day.
There will be a selection of wandering decadent canapes served throughout the day to tantalise the taste buds including all the fantastic signature Melbourne Cup dishes from the chefs table prepared by our award winning kitchen brigade.
Bookings are essential & full payment is required to confirm booking.
To book, please call 03 5255 1255 or email restaurant@oakdene.com.au