TOP
Oakdene News & Events


Wine Review by Brett Smith (The Geelong Advertiser - 5th March 2015)
"Pale straw in colour, with fresh fruit aromas of nashi pear, apple and citrus. The fruit flavours continue to drive this refreshing white across the palate, each well balanced and with a rich mouth feel. There's a nice minerality from start to finish and the acidity is spot on, while the finish is dry. Fine summer drinking from the Bellarine Peninsula."

Wine Review (Herald Sun - 24 February 205)
"Whether called pinot grigio or gris, most Australian-grown versions are tending to the fresher styling that strictly should be attached to the former tag. Here, it's early picked fruit with the faintest of pale English rose blush colour, a subtle rose fragrance lifts the nose before enticing the tongue with crisp and tangy white fruits."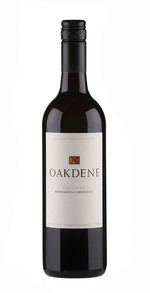 Wine Review by Shaun Viljoen (The Geelong Advertiser - 19 January 2015)
"This Bellarine Peninsula blend is 58 per cent merlot, 30 per cent cab franc and 12 per cent cab sav. The result is a dark red with an aroma of ripe berries and lifted spice. The flavour features smooth dark fruits and black pepper with a long finish. A balanced drop with complexity and good body."

Saturday 14th March, 11am to 5pm
Oakdene wines will be available to taste and purchase at the famous Flemington front lawns and rose gardens, as part of the Melbourne Food and Wine Festival. The Fleminton Grazing Trail & Cellar Door features a selection of the very best boutique wineries, breweries and producers Victoira has to offer in a unique cellar door atmosphere.
Apart from meeting the team and tasting our new releases, you can enjoy Australia's best horses competing on autumn's premier racing day, cooking demonstrations from leading Victorian chefs, global bites and beverages and a selection of childrens activities. The perfect recipe for an incredible day out for all ages.
Price: $25 Entry. $20 Tasting Glass available to purchase
Flemington Racecourse, 448 Epsom Rd, Flemington
www.melbournefoodandwine.com.au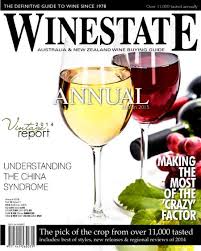 Best Wines of 2014 (Winestate Magazine - Annual 2015)



Oakdene William Geelong Shiraz 2012

*

*

*

*

*




Shiraz 2013-2012 $35-$50
"A gorgeous youthful shiraz. Very lifted peppery aromas with attractive earthy and floral touches. The tight clean Rhone-like palate has very focused flavours. Needs more time in the cellar. $35"
Oakdene Peta's Single Vineyard Bellarine Peninsula Pinot Noir 2013 ****
Pinot Noir 2013 $30-$40

"Oaky herbal bouquet with sweet vanillin notes. Spicy varietal palate is both sweet and savoury with the oak well matched by fruit. $35"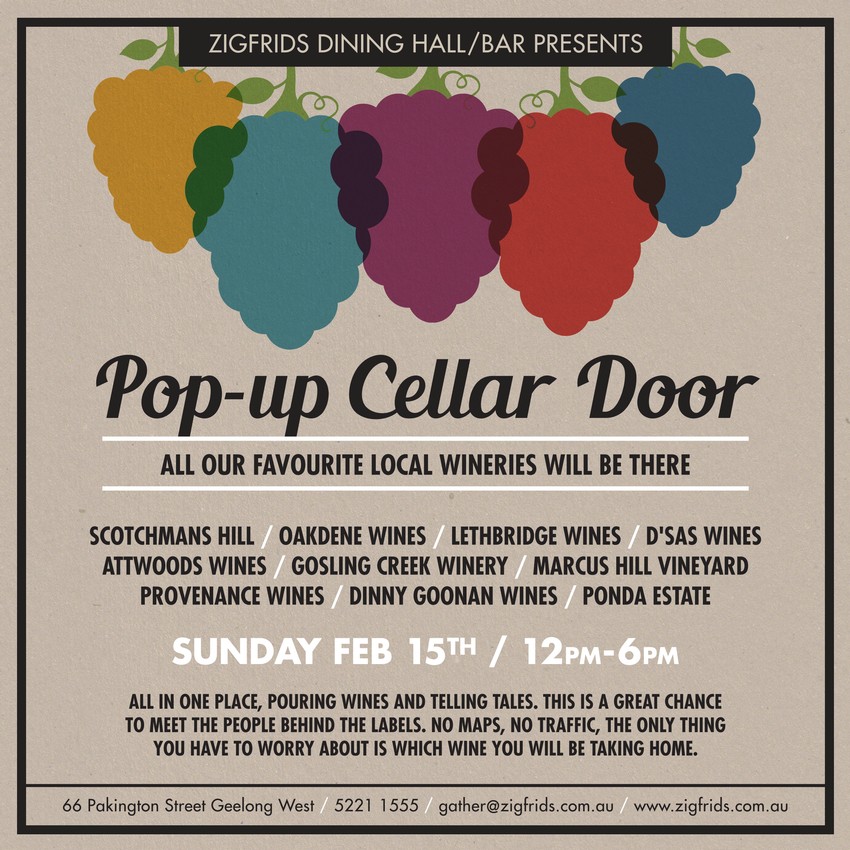 Wine Review by Brett Smith (The Geelong Advertiser - 8 January 2015)
"A very pale straw colour, the bead is impressively fine and the aromas are of lemon and granny smith apple and it's refreshingly crisp followed by some light toasty notes. It continues through to the palate with sherbet qualities driven by the lemon citrus, along with a fine mousse mouth feel. The punchy acidity and sherbet make for a mouth puckering finish. Even though it's zesty and crisp, it does have an elegant texture."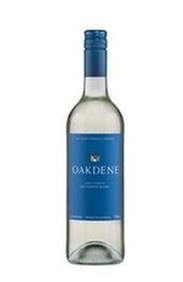 Wine Review (Herald Sun - 6 January 2015)
"The Bellarine Peninsula, south of Melbourne, is well tempered by the southern seas, which helps this pop star variety to settle down and gather a little more depth to its palate, here with notes of cinnamon spice sprinkled on nectarine, and brown-sugared grapefruit. For a bit more power again, the Jessica 2013 Sauvignon ($28) is a fuller, barrel fermented and matured style."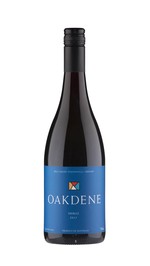 Wine Review by Jon Helmer (Geelong + Surf Coast Living Magazine - Summer 2015)
Oakdene is a small boutique producer committed to quality and this has been reflected in the numerous awards and trophies they have won in the short time since establishing in 2001. 2011 was a challenging vintage as most growers new to the game had never experienced or seen conditions like it before. It's important to note tha the fruit for this wine was all sourced from the same vineyard as their successful 'Peta's' pinot noir block. The wine is light in colour with nice rose petal/floral/cherry complexities on the nose with a soft, more feminine-like mouth feel on the palate with light cherry flavours predominating. Think lunch, think quiche, think light, and easy drinking 'beaujolais-like' pinot noir! Check out also their amazing Shiraz, Chardonnay and Sparkling wines.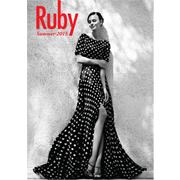 The sun is shining, warm winds are gently blowing and it's the time when we finally catch up with all those people we've been meaning to see all year. The entertaining season is upon us, and when it comes to serving up a white wine, we want it to be the right white.
In the same way that chardonnay was out-cooled by sauvignon blanc, now the prevailing sauv blancs are being out-trended in the it-wine stakes by pinot grigio, or is that pinot gris - well, either way, it's fast becoming the new it wine, or is that wines?
Even wine, it seems, can have an identity crisis these days.
When it comes to pinot gris and pinot grigio, it can be hard to tell what you are buying, which is why we gave Steve Paul, resident wine buff at Oakdene, a call to give us the inside line on the Pinot Gs.
You may have heard or been told that the only difference between the two is that gris is French and grigio is Italian; and that's sort of true, but really misses the story of the Pinot G wines.
What is the same about the gris and the grigio is the grape. The greyish-red grape is a mutation of the noble pinot noir grape (or pinot nero grape, as it is called in Italy), and both 'gris' and 'grigio' are translations of grey in reference to the colour. On another translation note, the name 'pinot' is a reference to pine, because pinot grapes grow in a tight cluster that vaguely resembles a pinecone.
Pinot grigio is a style of wine traditionally produced in northern Italy, around Mogliano and Alto Adige. An earlier harvest with higher acidity and lower alcohol, it tends towards crunchy fruit characters like Nashi pear flavours. The lower alcohol comes from the early harvest, as the grapes haven't developed the high sugar levels of later harvests. These wines are made to drink young and are a lovely light style for summer drinking.
Pinot gris is traditionally produced in northern France, around Alsace, close to the German border. The cooler region means grapes are picked later to allow them to ripen, making for a lower acidity, fuller bodied, rich white wines that tend to be higher in alcohol. Traditional pinot gris make good food wines, matching well with the German-influenced food of its native region like spicy sausages and sauerkraut. The higher alcohol content tends not to be as much of an issue in a culture where a small - and we do mean small - single glass of wine with dinner is the usual consumption limit.
"In Australia, we do either, or both," Steve said, adding that there has been a tendency in Australia to label the wine as gris or grigio based on nationality preference - or just the sound of the name - rather than the style being produced, which has added to the general confusion when it comes to the Pinot Gs.
But the truth is, with our warm climate, Australian Pinot Gs tend to be true to neither of the gris or grigio styles, but will fall somewhere across a very broad spectrum in between.
Here in Geelong, pinot gris (or grigio) is now the fourth most planted grape after pinot noir, chardonnay and shiraz.
"Local wine makers are investing in the variety because we have one of the most suited climates for planting it, which you can see from our success with pinot noir," Steve said. "Here at Oakdene we do both a grigio and a gris style of wine, with the grigio a lovely, crisp drinking style while the gris is a fuller style that is better with food. We have one vineyard of 5 acres of pinot gris and 80 per cent of all of our fruit goes to the fruit-driven style pinot grigio.
"But, like all wines, the best way to choose the right wine, or in this case the right white, is to try it and see what you like."