Whats happening over the Easter long weekend.......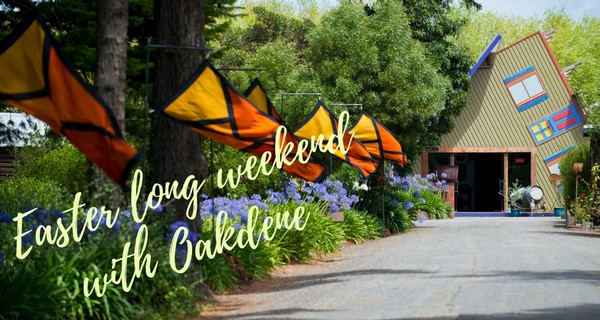 Easter Long Weekend............... How we all love a good long weekend! Time with family and friends, time in the sunshine and time to get away from it all. It doesn't get much better.
Here at Oakdene we have you covered all weekend and you can enjoy all of those things and more with wine tastings, exceptional cafe food and an award winning restaurant all in one place!
We are all closed up for Good Friday, but please take note of our opening hours over the rest of the weekend and make the time to come past for a visit!
​We look forward to seeing you!
---
CELLAR DOOR // Cellar door is open from 10am to 4pm Easter Saturday, Sunday and Monday. Remember we have a special offer on our 2 highly rated Sauvignon Blancs up until easter Monday. Wine Club members can save $4 per bottle in a purchase of 6 bottles or more!
MR GRUBB CAFE // Open from 9.30am Easter Saturday and Sunday, breakfast, cake, lunch and dinner as usual. Open from 11am on easter Monday with lunch starting at 12pm and dinner from 5.30pm.
Remember, Free Kids Meals Sunday Monday & Tuesday nights in March & April at Mr Grubb*.
To celebrate our new opening hours (we are now open for Dinner 7 nights a week), kids under 12 can eat for free Sunday, Monday & Tuesday nights throughout the entire month of March & April. Choose from Crumbed Chicken Nuggets & Chips, Penne Pasta, Tomato & Mozzarella (V), Fish & Chips
*This offer applies to main courses only for children 12 years & under, dining from the Mr Grubb Kids Menu. Maximum 2 children per adult.
MARTY @ OAKDENE // Celebrate Easter this year with a spectacular 3 Course Set Menu at Marty @ Oakdene*. For only $59 per person (excluding beverages), you can enjoy 3 delectable courses for either lunch or dinner at the restaurant over the Easter Weekend *. Download the Menu here
*Please note that this is the only menu option available on Easter Saturday & Easter Sunday and the price does not include beverages. The a la carte menu will not be offered on these days.
Bookings are essential and full payment is required to confirm bookings. To book please call 03 5255 1255 or email restaurant@oakdene.com.au.
*Please note that the restaurant is closed on Good Friday and Easter Monday. Please note that a 20% Public Holiday Surcharge applies on Public Holidays.