Our Halliday ratings are in....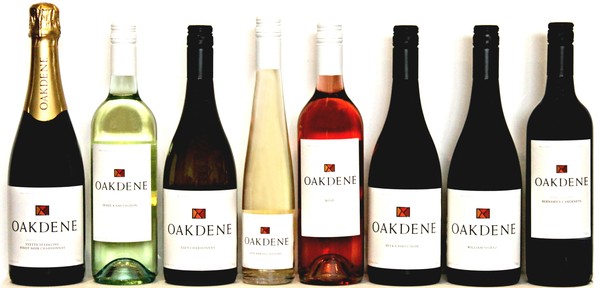 2019 HALLIDAY WINE COMPANION
The most important reviews are those made over the table at home or out to dinner by the everyday drinker and wine lover. Having said that media and third party reviews are a nice pat on the back and do provide some external validation, and every year the release of Halliday's Wine Companion always draws a lot of attention and excitement.
This year we have 9 wines rated 94 points or above and we have also retained our 5 red star rating for the fifth year running! This puts Oakdene in the top echelon of Australian producers.
We have put together a 2019 Halliday Selection 6 Pack at the special price of $170 which is a 15% saving off rrp, and includes free shipping Australia wide*. So you can have some of our highest rated wines, (including our top scoring wine) delivered straight to your door.
This offer is only available to our Wine Club Members, but never fear, it is free to join.
Not a Wine Club Member? Join now!
Orders are available online only until Friday 31 August so take advantage of this special offer now!
*Please note discounts apply at checkout once member is logged in
---
Oakdene 2019 Halliday 6 Pack $170

This pack includes 6 of our top scoring wines from the 2019 Halliday Wine Companion and includes FREE shipping

1 x 2017 Bellarine Peninsula Sauvignon Blanc

1 x 2017 Single Vineyard Ly Ly Pinot Gris

1 x 2016 Single Vineyard Liz's Chardonay

1 x 2016 Single Vineyard Peta's Pinot

1 x 2016 Single Vineyard William Shiraz

1 x 2016 Single Vineyard Bernard's Cabernets
*Please log in to your account to secure this discount
---
2019 Halliday Wine Companion Tasting Notes
2016 Bernard's Cabernet
63% cabernet franc, 23% cabernet sauvignon, 14% merlot co-fermented and matured for 16 months in French barriques (30% new). A co-fermented blend of these three varieties is unusual, with different ripening patterns, but made to look oh so easy here. It is full of juicy fruit, the new clones of merlot Q45-14 and 8R making a disproportionate contribution to the intense flavours. The tannin structure is immaculate, the oak contribution likewise. Something special, the cabernet franc happily accepting the support of the lesser quantities of the other varieties.


2017 Jessica Sauvignon
Estate-grown, hand-picked, crushed straight to French barriques (15% new) for fermentation with cultured yeast and 8 months maturation. The use of Sauvignon' (dropping blanc') is European (particularly French, more particularly the Loire Valley). The barrel fermentation and maturation reflects Robin Brockett's experience on the Bellarine Peninsula, and the quality of the vineyard's terroir.


2017 Oakdene Sauvignon Blanc
No frills winemaking throws all the focus onto the fragrant bouquet and highly expressive palate. Has thrived in the cool vintage, and created something special, tropical/lemongrass notes - unusual bedfellows that have clearly been well satisfied by their union.


2017 Ly Ly Pinot Gris
100% fermented, and matured for 18 months, in French barriques (15% new). Pinot gris doesn't get much more complex or serious than this. It's a wine-drinker's wine, not for amateurs.


2016 Liz's Chardonnay
Wild yeast-fermented in new and used French barriques, matured for 12 months. Green-gold, it stops well short of going OTT with its compendium of stone fruit flavours of all kinds, balanced and lengthened by firm acidity.


2016 Peta's Pinot Noir
Wild-fermented with some whole bunches, matured for 12 months in new and used French barriques. The pure cherry/plum bouquet leads into a palate that easily picks up the fruit promised by the bouquet and adds spicy savoury notes augmented by the whole bunches. The overall fruit/oak/tannin balance can't be faulted.


2016 William Shiraz
Hand-picked, destemmed, wild yeast open-fermented with 15% whole bunches, matured in French barriques (30% new) for 16 months. This is a cool climate shiraz that is full-bodied, rich and complex notwithstanding its cool origins. The black and red fruits are upholstered with studs of licorice, spice and pepper, not allowing you to drop your eyes for a moment. Ripe tannins and quality oak complete a grand picture


2017 Oakdene Pinot Grigio
Estate-grown, hand-picked, crushed, cool-fermented in stainless steel, 3 months on lees. The yield isn't shown, but must surely have been low to produce such a concentrated wine given the straightforward vinification. It has unexpected texture, and a precocious display of pear-accented flavours.


2016 Oakdene Chardonnay
Destemmed, pressed to French oak (10% new) for fermentation with cultured yeast, matured for 10 months. An unexpectedly complex bouquet, doubtless reflecting the fermentation in barrel on solids. The fruit flavours span citrus to stone fruit, meeting seamlessly in the middle, and giving rise to a juicy character that has as much to do with mouthfeel as flavour.


2014 Oakdene Matilda Macedon Ranges Blanc de Noirs
100% pinot noir, 36 months on lees, dosage 8g/l, disgorged Aug '17. The pale grey-pink is what English wine writers used to describe as partridge eye. The cold continental climate of Macedon (and some assured winemaking) guarantees a wine that will flourish with several more years under cork, its red berry pinot varietal base becoming ever more flowery and regent.


2016 Oakdene Pinot Noir
Estate-grown, open-fermented in small pots, matured in new and used French barriques for 11 months. There's no doubting its cool grown origins, the bouquet perfumed by red flowers and fruits, the palate an encore bringing in drums to tattoo the spicy/savoury notes.


2015 Yvette Bellarine Peninsula Pinot Noir Chardonnay
A 50/50% blend, 24 months on lees, dosage 3g/l, disgorged Aug '17. Reflects the cool maritime climate in a positive way, with grainy acidity and fruit pith and zest providing length and a brisk finish.

2017 Oakdene Bellarine Peninsula Rose
Hand-picked pinot noir, whole-bunch pressed with minimal skin contact, cool-fermented in stainless steel, 2 months on lees. Light, clear magenta; fresh strawberries poached for 30 seconds and finished with crisp, faintly citrus, acidity.


2016 Oakdene Shiraz
Spicy, savoury and peppery, but with black fruits to the fore. No more than medium-bodied, and the question is will the fruit stand the test of time?