Dear All,
The most important reviews are those made over the table at home or out to dinner by the everyday drinker and wine lover. Having said that media and third party reviews are a nice pat on the back and do provide some external validation, and every year the release of Halliday's Wine Companion always draws a lot of attention and excitement.

We are pleased to announce Oakdene Wines has received a 5 red star rating for the third year running in the latest edition (2017) of the Halliday Wine Companion, James Halliday's' definitive guide to Australian Wine. A 5 red star rating lists Oakdene in the top echelon (10%) of Australian producers, as an "outstanding winery regularly producing wines of exemplary quality and typicity. Also, will have at least two wines rated at 95 points or above, and had a 5 star rating for the previous two years." This year we had 10 wines rated 90 points or above including the current release 2014 Single Vineyard William Shiraz at 96points and was included as a Special value wine within its glass symbol status!
Our team credit the success to a fantastic site for growing high quality fruit, and dedication to excellence in the vineyard. The challenge ahead is to maintain the momentum and ensure our wines continue to reflect the hard work in the vineyard and winery, and remain at the top end of the Australian wine industry.

So without further ado here are our results -
Oakdene William Single Vineyard Bellarine Peninsula Shiraz 2014 - 96 points / 5 goblets $43.00
In beautiful form. Meat and spice notes galore but with plush, ripe, generous fruit as a flood of seductive power. Tannin is smoky, filigreed, and deceptively firm. The longer you spend with this wine the more it impresses. It's stellar. Drink by: 2030 Alcohol 14.1%
Oakdene Jessica Single Vineyard Bellarine Peninsula Sauvignon 2015- 95 points / 5 goblets $28.00 (unreleased)
Barrel-fermented, and hasn't it worked a treat. This is a wine that seems entirely sure of its self. Ripped with flavor, fruit and oak; textural; lengthy. Importantly it remains fresh and fruit-driven as you swallow; the drive of fruit has not been sedated. Drink by: 2017 Alcohol 12.8%
Oakdene Liz's Single Vineyard Bellarine Peninsula Chardonnay 2014 - 93 points /4.5 goblets $35.00 (unreleased)
Pale straw. Come-hither aroma and flavour. Pear and custard apple with white peach hitting the mid-palate and then running through the finish. Spicy/creamy oak is appropriately/seductively applied. Flavour meets finesse. Drink by: 2020 Alcohol 13.5%
Oakdene Peta's Single Vineyard Bellarine Peninsula Pinot Noir 2014 - 93 points /4.5 goblets $43.00 (unreleased)
Pretty but substantial. Floral aromatics meet macerated red/black cherry flavours. Spice adds light to the shade. Neat as a pin but savoury spice is given plenty of rein. In a very good place. Drink by: 2021 Alcohol 13.2%
Oakdene Ly Ly Single Vineyard Bellarine Peninsula Pinot Gris 2015 - 92 points /4.5 goblets $28.00
Barrel-fermented and 15% of the oak is new. It's textural and spicy but the fruit wins the day in style. Lime and crystallised tropical fruit flavours talk a convincing game. In short, it both feels and tastes good. Drink by: 2018 Alcohol 13.7%
Oakdene Bellarine Peninsula Sauvignon Blanc 2015 - 91 points / 5 goblets (Sold Out) 2016 vintage now available $23.00
No frills winemaking, the accent on fresh varietal fruit with a mouthful of tropical passionfruit, lychee, guava and banana flavours, begging to be enjoyed right now. Drink by: 2016 Alcohol 12.6%
Oakdene Bellarine Peninsula Pinot Grigio 2015 - 90 points / 4.5 goblets (Sold Out) 2016 vintage now available $23.00
While early harvested to retain natural acidity, there is abundant citrus and pear fruit to balance that acidity. Very good grigio. Drink by: 2016 Alcohol 12.9%
Oakdene Bellarine Peninsula Pinot Noir 2014 - 90 points / 4.5 goblets (Sold Out) 2015 vintage now available $24.00
Blends fruit and spice flavours admirably well. Could do with more oomph through the finish, perhaps, but in the 'drink now' pinot noir stakes this is a contender. Drink by: 2019 Alcohol 13.3%
Oakdene Bernard's Single Vineyard Bellarine Peninsula Cabernets 2014 - 90 points /4.5 goblets $30.00
Light in colour and so too in flavour. The charm here takes a stealth approach. Choc, herbs, pencils and tangy/curranty fruit flavours tread carefully through the palate. The finish is then very dry. It's touch and go, but you'd bet on this maturing in a positive direction. Drink by: 2025 Alcohol 12.9%
Oakdene Bellarine Peninsula Late Harvest Riesling 2015 - 90 points / 4.5 goblets $23.00 (375ml)
It wouldn't be hard to drink this by the bucket-load, over a responsible period of time of course. It tastes of sweet ripe grapes and citrus and is most definitely delicious. Drink by: 2017 Alcohol 12.9%
Special Offer - The Halliday 6 Pack!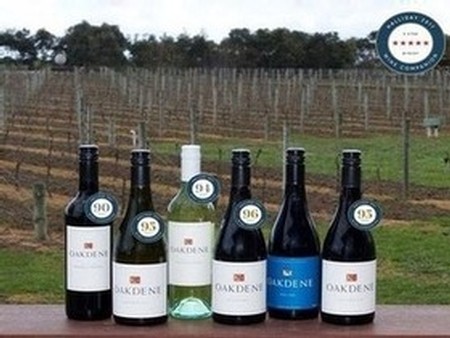 We have decided to celebrate with our wine club members this great achievement by putting together the Halliday 6 pack, special offer. It includes 5 of our top scoring wines plus one of our new releases.
The pack includes:
2014 William Single Vineyard Shiraz 96 points
2014 Peta's Single Vineyard Pinot Noir 93 points
2014 Bernard's Single Vineyard Cabernet 90 points
2014 Jessica Single Vineyard Sauvignon 94 points
2013 Liz's Single Vineyard Chardonnay 94 points
Plus a bottle of our new release 2015 Oakdene Pinot Noir to enjoy.
This pack is usually valued at $198.00 but we would like our wine club members to benefit with a 20% discount bringing the price down to $157.50. What a great way to taste the best of what Oakdene has to offer.
This offer is limited to the first 100 orders. BUY NOW