Oakdene Cellar Door opening hours.....
The Oakdene Upside Down House is open for take away wine sales.
Good news! Due to the recent announcement, our cellar door will be open to Regional Victoria for take away sales only, from Friday 18th September! Please note for your safety and ours, we are strictly limited to 10 guests including children inside the Cellar Door, please be mindful of this if you are part of a group. As restrictions continue to ease, we plan to resume tastings in the future. For more information, follow us on Facebook, Instagram or call our cellar door on (03) 5256 3886 (ext 1) for more information.
We will always adhere to the latest government protocols including social distancing and sanitizing measures to ensure your safety and ours. Please check this page or call ahead if you are unsure. Thank you for your support and understanding during these difficult times.
From the entire team at Oakdene Wines, take care and stay safe.
Open: 12pm - 4pm, 7 days
We have a number of additional ways you can place an order, with 10% off and free delivery Australia wide on purchases of 6 bottles or more.
ONLINE – Just click here and we will take you straight to the website (or add any of the items below straight to your cart.
VIA EMAIL – Click here for our email template and let us know which wines you want. Someone from the team will call you for credit card payment over the phone.
PHONE – Call our cellar door on 03 5256 3886 (extension 1) and we will take the order for you.
Our cellar door, the 'Upside-Down House', offers visitors to the Bellarine Peninsula a unique tasting room to experience. Designed by owner Elizabeth Hooley, the cellar door appears to be an A frame timber house that has been blown over in the wind, with the roof line on the ground and timber stumps exposed. Recycled and re-claimed timbers feature extensively throughout the interior, coupled with contemporary design and facilities to complete a spectacular and very functional tasting room capable of catering for both small and larger groups, located a short walk from Oakdene Restaurant.
Our cellar door is manned by a passionate,small team of Bellarine Peninsula locals who, over the years, have developed an intimate understanding of our region and a deep knowledge of our wines. The team are always keen to talk you through our range of award winning wines, show you around the property or help you decide which wines to take home with you. There are also extra virgin olive oils from the Lighthouse olive grove and gifts to peruse.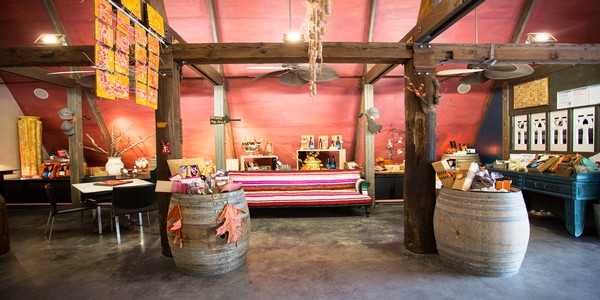 ---
Gourmet Traveller WINE - Australia's Best Cellar Door Awards
2015 - Best Additional Experience (Restaurant, Accommodation & Orchid Nursery)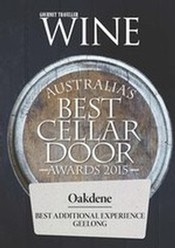 The leading wine writers in the country have been very busy visiting every region to determine the best tasting experiences at cellar doors around Australia for Gourmet Traveller WINE. The team of experts criss-cross the country visiting hundreds of cellar doors to determine the standouts in every region, with the best large and sm
all operations, wines to try, delicious food offerings and other must-do activities.
In 2014 Oakdene won the 'Star Cellar Door' for the Geelong area and this year we are proud to be the 'Best Additional Experience' for 2015 (restaurant, accommodation and orchid nursery).
2014 STAR CELLAR DOOR: OAKDENE by Jeni Port


'It's hard to decide what is more outrageous, the upside-down house that operates as a cellar door or the interpretative sculpture junk tree in the driveway fused together with vineyard flotsam and jetsam. Oakdene is definitely unique in its decorating, courtesy of co-owner Elizabeth Hooley, but the quirky décor is proving to be a huge draw card for the Bellarine Peninsula winery. The wines, however, deserve equal attention. Oakdene offers some of the best value for money wines on the Bellarine Peninsula headed by chardonnay, pinot noir and shiraz. Sauvignon blanc does well in the maritime climate and Oakdene produces a standard style, all crisp, crunchy and herbal, as well as a bottle-aged wild thing called Jessica, full of spice and complexity. Stay for a meal in the restaurant, and Oakdene also sells orchids, lots of them, from its nursery out back.