20 July 2020 | Team Oakdene
2018 Jessica Sauvignon, Best in Victoria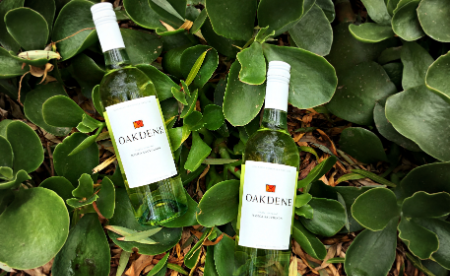 2018 Jessica Sauvignon ranked #1 at The Real Review
With the current restrictions on travel and events in place, the major wine shows in Australia will not take place this year, leaving small producers such as us with less opportunities to have our current release wines independently assessed and reviewed.
Luckily, the hard working Australian wine media are still tasting thousands of wines each year, with only the best appearing in print.
We recently received these fantastic reviews from the team at The Real Review, for our great value Bellarine Peninsula Shiraz and our 2018 Jessica Sauvignon.
Both wines are available now, online and in the Cellar Door. The Cellar Door is currently open from 12pm - 4pm daily for take away sales and order collection.
2018 Oakdene Single Vineyard Jessica Sauvignon
#1 of 20, Top Ranked Victorian 2018 Sauvignon Blancs
Huon Hooke, 93 points
Light, bright yellow colour. The aromas are very fresh and fragrant: feijoa, passionfruit varietal notes intertwined with subtle cashew-nutty oak nuances and the faintest sweaty note. The palate is delicate, finely-textured and dry, the finish clean and harmonious, lingering and refreshing, with cleansing acid in balance, finished off by a subtle trace of tannin grip. The aftertaste is tangy and mouthwatering. A very smart sauvignon blanc. (100% barrel fermented and aged for 8 months in French oak barriques, 15% new)
Ralph Kyte-Powell, 93 points, Cellar Talk
'The evolution of barrel-fermented and oak-aged sauvignon blanc, both in Australia and New Zealand, has been a tale of the good, the bad, and the ugly. Thankfully those two latter types have been disappearing as expertise with the style evolves in favour of gentler, less wood-driven wines. At their best, such wines have given us a different slant on Downunder sauvignon blanc.
Instead of fruit bombs, these sauvignons are wines of complex interest, savouriness, and textural dimension. Oakdene's Jessica is a good example, elegant and rather understated.
Yellow-straw in colour, its inviting aroma harmoniously weaves ripe fig and tropical fruit through chalky and gently nutty threads. The palate shows real finesse, with excellent integration of fruit and subtle barrel influence, appetising freshness and a light firmness at the end.'
2018 Bellarine Penisula Shiraz
#14 of 37, 2018 Shiraz from Port Phillip
Huon Hooke, 92 points
'Medium to deep red/purple colour, with a complex spicy, vegetal and floral aroma, very aromatic and lifted - possibly whole-bunchy. The palate is rich and sweet-fruited, succulent and fruity but not simple in the slightest. The flavour is exotic and delicious. How can a wine this tasty be this cheap?!'
Comments