13 May 2020 | Team Oakdene
A wine for all seasons, Pinot Noir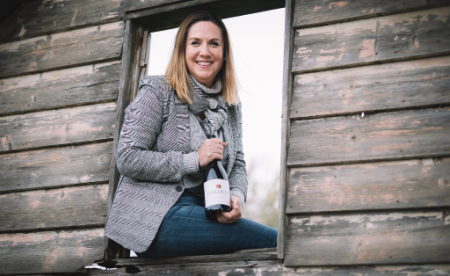 MAY 2020
Meet Peta.....
By now, most of you will know who Peta is. She is the daughter of owners Bernard & Liz and is also our amazing Project Manager! Lucky Peta, is also the name behind our Single Vineyard Peta's Pinot Noir.
Peta is working on some pretty exciting projects around Oakdene, but you will often find her in her happy place working in the vineyard, picking, lifting and doing anything else that needs to be done!
Pinot Noir, native to the famous French region of Burgundy, is ideally suited to the cool growing conditions of the Geelong wine region.
Pinot Noir has become enormously popular over recent years and it is little wonder, when in spite of its lighter bodied style, it remains a highly flavoursome red wine delivering complex red-fruit flavours with the occasional hint of spice.
At Oakdene we produce two styles of Pinot Noir which vary in fruit weight, tannin structure and complexity. Our Bellarine Peninsula Pinot Noir is made in a more fruit forward, earlier drinking style and aged in second use/older oak barrels. Peta's Pinot Noir is made in a more cellar worthy style using a percentage of whole bunches and aged in 30% new oak, adding more structure and a stemmy perfume.
Both of these wines are an excellent representation of the Pinot Noirs of today and have great cellaring abilities. Get your hands on some today!
2018 Bellarine Peninsula Pinot Noir
Bright garnet in colour with a Perfumed bouquet of red flowers, dry spice and ripe red fruit notes. Generous mid palate, with ripe red cherry and abundant savoury/spicy notes. Subtle oak and earthy notes are balanced by firm acidity and fine tannin on the finish. Conclusion, Enjoy now or over the next 2 to 6 years.
2018 Oakdene Single Vineyard Peta's Pinot Noir
Garnet in colour with a deep hue. A lifted bouquet of red fruit notes, cherry, plum and spicy notes. Rich and textured mid-palate dominated by cherry and dark plum notes. French oak and whole bunches adding a savoury element to the wine, which is complimented by the regions earthy characters. Excellent fruit weight balanced by firm acidity and fine ripe tannins. Enjoy now with food or cellar for the next 5 to 10 years.
5 star - Winestate Magazine, September / October – 'Nose has a good hit of cedary oak sitting on top of some very interesting spicy peppery fruit. rich upfront fruit sweetness on the palate with long savoury tannins and good acidity'.
Comments