10 February 2016 | Articles | Oakdene Wines
Geelong Wines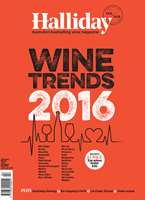 In the Feb/March edition of Haliday Magazine, Casey Warrener has written a lovely article about Geelong wine and its surrounding wine regions. She had a little bit to say about Oakdene throughout the acticle but this is a little snipet she wrote about us called 'Broad Appeal.'
Featuring accomodation, a fine dining restaurant, an unfussy cafe and a quirky orchard, there is something for everyone at Oakdene. Oakdene's wine is crushed and produced at what wine director Steven Paul affectionately calls 'Scotcho's.' Steve manned the cellar door at Scotchmans Hill for a number of years. "Scotcho's have always made crazy wines. They're looked apon as quite mainstream because they are the largest producer in the region, but as long as I've known them they have played around with new styles."
Experimental winemaking has worked in Oakdene's favour. Their Jessica's Sauvignon, modelled on an age-worthy style produced under Scotchman's Cornelius label, is a best seller at the cellar door and has been well received by industry. "We started selling our barrel-fermented style into Melbourne and sommeliers said it is a Sauvignon Blanc they actually wanted to drink," says Steve.
Like Robin, Steve is of the opinion that shiraz is on the march in Geelong. "Bellarine shiraz is spice and pepper, sinilar to a Rhone style. It's differnet from your traditional Australian styles. Our shiraz is a clone from the Best's vineyard's 1860s plantings, which gives it a generosity of red fruit," says Steve. "The 14 William Shiraz has been in 4 shows and already taken out 3 gold medals."
Since this has been written the 2014 William Shiraz now has 4 gold medals from Ballarat, National, Royal Melbourne and Victorian wine shows. For more information about our wines just visit oakdene.com.au.
Comments