23 April 2015 | Oakdene Wines
Harvest 2015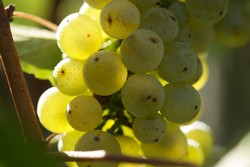 2015 marks the 11th harvest from the Oakdene vineyard since planting the first block of Chardonnay, Pinot Noir and Shiraz in 2001. Sauvignon Blanc and a second block of Shiraz were subsequently planted in 2002, and then Pinot Gris and a mixed block of Merlot, Cabernet Franc and Cabernet Sauvignon in 2008.
We experienced an early start to vintage this year, due to the onset of early Spring. The growing season was moderately warm, with regular rainfall, and unlike previous years, no heat spikes in late January and early February. Harvest started on February 19th with our sparkling base being picked. Our whites and Pinot Noir were harvested in a busy period from the 24th to the 26th February. Shiraz was picked on the 20th March and Merlot/Cabernet Franc/Cabernet Sauvignon safely delivered to the winery on the following day.
Vintage 2015 will be remembered as our earliest harvest to date, with crop loads slightly below normal. Fruit quality is very high across the board, with a good level of ripeness, varietal character and excellent acidity. We are looking forward to seeing how these wines flesh out over time in tank and barrel, and expect to have our early release wines available in late July.
Comments