24 November 2022 | Oakdene Wines
Merry OAKSMAS Specials!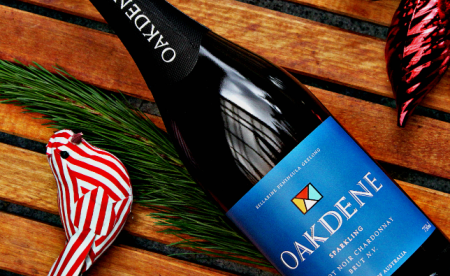 What an amazing weekend we had recently at Oakdene, with another new trophy added to our cabinet from the Geelong Wine Show. We were so proud to take home the Geelong Cellar Door Best Pinot Noir Trophy for the 2021 Bellarine Peninsula Pinot Noir! The competition was great, with so many top quality Geelong regional wineries in the mix.
Speaking of weekends though, there are only 4 more of them left until Christmas. Yes, 4. That means there are even less days to get your orders in and delivered before the big day. What a year!
We want our Wine Club members to have their favourite wines, including our newest trophy winner, ready for the festive table. Our OAKSMAS special is ready to go, and with limited delivery times remaining, we don't want you to miss out.
We have 2 amazing offers for our Wine Club Members, with something a little extra to go with your Wine Club benefits*.
Purchase 6 bottles or more online and receive an extra 5% off at the checkout
Purchase 12 bottles or more online receive an extra 10% off at the checkout
Here are some of our Christmas table favourites (plus what they pair well with!)
2018 Oakdene Sparkling Shiraz
The perfect sparkling aperitif on Christmas day! This wine can be seriously enjoyed alongside a charcuterie or cheese board before the main event. Serve this one really well chilled, it will take the edge off a hot Christmas day!
$35 bottle / $178.50 Wine Club 6
2019 Oakdene Jessica Sauvignon
Is a seafood lunch on the cards at your house? This oak fermented sauvignon blanc has perfectly balanced acid and fruit flavours so won't overpower those amazing fresh ocean flavours.
$28 bottle / $142.80 Wine Club 6
2021 Bellarine Peninsula Rose
Everybody loves Rose on a warm summers day, and this lovely blushed wine is the perfect afternoon refresher to serve on its own! Enjoy well chilled to bring out the beautiful red fruit flavours.
$24 bottle / $122.40 Wine Club 6
2019 Oakdene Peta's Pinot Noir
The perfect accompaniment to your Christmas turkey or duck, Pinot Noir will bring out the flavours of your best poultry dishes and roasted root vegetables. Pinot Noir is a big fan favourite so make sure it's on your table.
$43 bottle / $219.30 Wine Club 6
2021 Bellarine Peninsula Field Blend
When you are looking for more of a medium-bodied red wine, this Shiraz / Pinot Noir blend is just for you. Enjoy it with a maple glazed ham and rosemary baked potatoes.
$24 bottle / $122.40 Wine Club 6
2020 Bellarine Peninsula Shiraz
A classic cool climate Shiraz full of spice and warmth. Pair this with some delicious vegetarian mains, lamb cutlets then traditional mince pies or your favourite chocolate dessert like a decadent mud cake.
$24 bottle / $122.40 Wine Club 6
This offer is only available to Wine Club members until Wednesday 14 December on current stock, so make sure you are joined up and logged in to take advantage. JOIN HERE
*Offer only applicable to wine purchases and is not available in conjunction with any other offers
To make sure you receive your wine in time for Christmas, we ask that you place orders no later than 2pm Wednesday 14 December*. We cannot guarantee that orders placed after this date will arrive on time.
*Northern Territory, Western Australia, Tasmania, North Queensland - Orders need to be placed by Friday 2 December! Delivery may take up to 8 business days due to parcel volumes & floods
Comments