24 March 2021 | Oakdene Wines
Oakdene's Sparkling New Release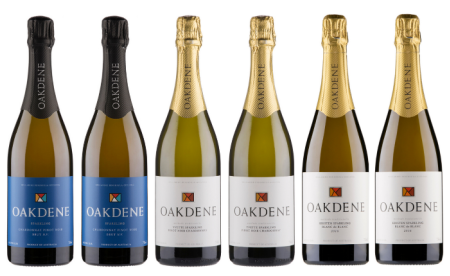 And it's almost Valentines Day too!

It's almost harvest time for our next sparkling base, and the vineyards are looking magnificent! So even though summer may be drawing to a close, that doesn't mean it is time to put away the bubbles just yet!
We have recently released new vintages of both of our traditional methode sparkling wines, and with Valentines Day just around the corner, they are just perfect for sharing.
All of our Sparkling Wines are made in a dry style, using the traditional varieties of Pinot Noir and Chardonnay and include our fruit driven Non-Vintage house style. Our limited production Vintage wines are made using the traditional method with extended lees aging resulting in complex wines.
You can order online at any time, or visit the Oakdene Cellar Door, open 7 days from 10am - 4pm.
Oakdene Sparkling 6 Pack
This 6 Pack contains:
2 x Oakdene NV Sparkling Pinot Noir Chardonnay
2 x 2016 Oakdene Yvette Sparkling Pinot Noir Chardonnay
2 x 2017 Oakdene Kristen Sparkling Blanc de Blancs
Members price $167.40 - RRP $186
Comments