19 August 2021 | Oakdene Wines
The 2022 Halliday results are in!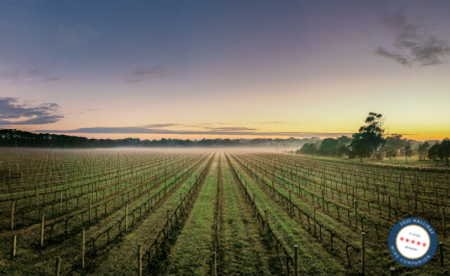 James Halliday's 2022 edition of the Australian Wine Companion lit up our computer screens again last week with all the awards streamed live , replacing the gala dinner we have become accustomed to.
We are very pleased to retain a 5 red star rating for the eight successive year keeping Oakdene in the top echelon of Australian producers. This year's release has adopted some changes to accommodate the volume of wines (and wineries) rated with some additions to the tasting panel. This included regional experts, in Geelong's case Jeni Port, one of Australia's most experienced wine journalists. New editor Tyson Stelzer also made it clear, this release would see a rationalisation of the scoring system, to bring scores closer to the current 100 point wine show system.
The changes make retaining our 5 red star rating even more pleasing, and great to see 5 wines receiving a special value rating, which symbolises a wine considered to offer special value for money in the context of their rating!
So without further ado here are our 2022 results –
2022 HALLIDAY WINE COMPANION
2019 Oakdene Liz's Single Vineyard Bellarine Peninsula Chardonnay 95 Points (Gold & Special Value Rating)
Destemmed, pressed direct to barrel for wild-yeast fermentation and matured for 12 months in French oak barriques (30% new). This wine has a reputation for generosity of flavour and the 2019 vintage doesn't disappoint. Arrives with a bang! Take a long inhale of all that stone fruit, dried peach, orange peel, honeysuckle and pear. Keep that thought, because there's more to behold on the palate and this time it comes with delicious texture and length. Coastal saline sea-spray notes hover, providing added zing. (Jeni Port) Drink by: 2028 Alcohol 13.6%
2019 Oakdene Peta's Single Vineyard Bellarine Peninsula Pinot Noir 94 Points (Silver)
Hand-picked fruit, 20% whole bunches, wild-yeast fermented in small open-top pots, mlf, 12 months' maturation in French oak barriques (30% new). Deep purple/garnet colour. Intense and savoury in aromas of Thai herbs, anise, wood smoke, black cherry. Runs a touch wild and savoury across the tongue in shades of cherry cola, rhubarb and sage, with notes of smoke. A light dusting of spice throughout helps fuel the wine's energy. (Jeni Port) Drink by: 2027 Alcohol 13.7%
2019 Oakdene Bellarine Peninsula Chardonnay 94 Points (Silver Top 100 & Special Value Rating)
Fermented and matured for 10 months in new and used French barriques. Gleaming straw-green hue. The quality of the fruit is obvious; the wine already in the saddle; the gait smooth and supple; white stone fruit, citrusy acidity and creamy cashew in harmony. (James Halliday) Drink by: 2029 Alcohol 13.4%
2020 Oakdene Ly Ly Single Vineyard Bellarine Peninsula Pinot Gris 93 Points (Silver)
Maintains the producer's high standard already set with the grape. The merest hint of a blush hue, the aromas lifted with spring blossom, just-cut apple and a touch of honeysuckle. Early on in its life, already revealing hints of a complex nature, of marzipan, spiced apple, pear tart. Certainly ripe and full of flavour. (Jeni Port) Drink by: 2025 Alcohol 13.9%
2019 Oakdene William Single Vineyard Bellarine Peninsula Shiraz 93 Points (Silver)
Hand picked and destemmed, wild-yeast fermented in small open-top vats with 15% whole bunches. Mlf followed by 16 months in French oak barriques (30% new). Everything nicely framed around some rather smart oak, presenting a picture of cool-climate elegance. Deep purple, sweet black cherry/blood plum fruit with a generous dusting of spice and toasty oak. Aromatics come out to play on the palate, a note of pepper, too. Ripe cherry tannins add an extra flourish. (Jeni Port) Drink by: 2031 Alcohol 14.4%
2020 Bellarine Peninsula Sauvignon Blanc 92 Points (Silver & Special Value Rating)
Gifts the drinkers everything they like about sauvignon blanc; from the grape's exuberance and energy, to the distinctive lime-citrus, herbs and grassy notes, through to the crisp, cool palate with zingy lemony acidity. Not a note out of place. (Jeni Port) Drink by: 2023 Alcohol 12.4%
2016 Oakdene Yvette Sparkling Pinot Noir Chardonnay 91 Points (Silver)
Light pink tinge with the lifted scent of yellow peach, honeysuckle, lemon butter and just-baked pastry. Homogenous, lively flavours echoing the aroma with additional red apple, mandarin rind flavours for complexity. Nicely textured throughout with fine acid crunch. (Jeni Port) Drink by: 2023 Alcohol 12.6%
2017 Oakdene Yvette Kristen Blanc de Blancs 91 Points (Silver)
This blanc de blancs sees 36 months ageing on yeast lees, instilling the sparkling with a wealth of lemon, grapefruit, white peach and fresh bread aromas with a touch of flintiness. Nice complexity here, balanced with impressive acidity. The palate keeps true to the citrus theme with smooth autolysis texture and depth. Excellent aperitif style. (Jeni Port) Drink by: 2023 Alcohol 12.1%
2020 Oakdene Jessica Single Vineyard Bellarine Peninsula Sauvignon 91 Points (Silver)
Like sucking on a juicy grape, this 1yo is super-fresh and zesty. The grape's usual herbaceous exuberance is toned down and in its place are green mango skin, lime, lemon rind and green apple. It's a well-composed, thoughtful expression. Crunchy acidity hits the spot. (Jeni Port) Drink by: 2023 Alcohol 12.0%
2020 Oakdene Bellarine Peninsula Rosé 91 Points (Silver & Special Value Rating)
A blend of 36/30/18/16% cabernet sauvignon/cabernet franc/shiraz/merlot. Interesting choice of varieties, combining solid acidity, delicate aromatics, soft texture and juicy fruit-forward fruit. The awesome foursome, showing a very Australian no-nonsense, flavoursome approach to rosé, all with an easy tannin grip and bright acidity. (Jeni Port) Drink by: 2024 Alcohol 13.1%
2019 Oakdene Bellarine Peninsula Pinot Noir 90 Points (Silver)
Destemmed fruit, fermented in small open-top pots with cultured yeast, mlf and 11 months in French oak barriques (10% new). A most tasty, well-priced pinot that sings with fruit - black cherry, redcurrant, satsuma plum - and spicy anise. Tannins and oak melt into the background. Juicy and clean. Drink up. (Jeni Port) Drink by: 2026 Alcohol 13.6%
2020 Bellarine Peninsula Pinot Grigio 90 Points (Silver)
Another solid grigio from the Geelong region. The maritime climate does the grape proud. Easy to get to know, it boasts a light scent of Jonathan apple, spiced pear and white nectarine. Crisp, clean, lively with a hint of dusty musk to close. (Jeni Port) Drink by: 2023 Alcohol 13.3%
2019 Oakdene Bellarine Peninsula Shiraz 90 Points (Silver & Special Value Rating)
Destemmed, fermented in small open-top vats with cultured yeast, mlf, 11 months in French oak barriques (10% new). Forest floor, earth, briar, fennel and red/blue berries on the bouquet. Autumnal in character, it cuts a sleek figure with a taut - almost steely - tannin/acid drive that puckers the mouth. Speaks of its cool-climate home. (Jeni Port) Drink by: 2026 Alcohol 13.2%
2019 Oakdene Bernard's Single Vineyard Cabernets 89 Points (Bronze)
A blend of merlot (66%), cabernet franc (30%), cabernet sauvignon (8%). Making the most of a challenging vintage and an early picking with an upfront young blend, with early drinking on its mind. It's all about the fruit here, black cherry, plum with some attractive dried flower florals and brown spice. The plush, sweet-berried fruits have prominence, cabernet sauvignon seems reserved for the solid backbone. It works well. (Jeni Port) Drink by: 2025 Alcohol 12.4%
Comments