10 March 2016 | Oakdene Wines
Wine Club Members - Up to 20% Off
Oakdene's End of Summer Blues.
A Six Pack Special Offer
For Wine Club Members Only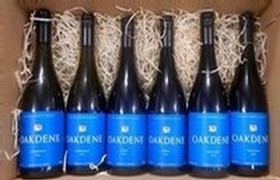 Can you believe it? Summer is over, it's an end to the heat, the sun and alot of fun. At Oakdene we have come up with a six pack offer, End of Summer Blues, that may very well help you to get over it.
Have you tried any of our blue labels yet? We would love you to try three of them; the 2014 Oakdene Chardonnay, the 2014 Oakdene Pinot Noir and the 2014 Oakdene Shiraz. There will be two bottles of each in the pack. The blue labels are made ready to drink and would be perfect for a dinner party or just to have on the rack ready to share with friends or enhance warm autumn flavours and tasty cheese boards.
The six bottles of wine would normally cost $144.00 but as a Wine Club Member you already enjoy 10% off all of your orders, that would bring the price down to $129.60. We would like to offer all our loyal Wine Club Members an extra 10% off, bringing this pack down to $116.64.That's almost a 20% saving. JOIN NOW
All of these blue label wines have been reviewed and awarded great scores by judges that you know and trust.
Mike Bennie has reviewed the 2014 Oakdene Shiraz in the last issue of WBM and scored it a fantastic 92 points. "Flighty, frisky feeling Shiraz shows some herbal influence, dusty tannin, slippery texture. It's set to medium bodied, looks great as a young wine (decant!) but feels like there's plenty in reserve for mid-term cellaring. Elegant is a good word here."
Gary Walsh has scored the 2014 Oakdene Chardonnay 89 points for Winefront. So...what are you wating for? A Chardonnay with no name from Oakdene. That's a change! Peach and green banana, subtle oak. Sunshiny fruit, but with a good cut of acidity and some greener flavours coming through on the finish. Pretty good.
The 2014 Oakdene Pinot Noir has also been given a great review but you are going to have to wait until the end of the month for this one. Stay tuned!
The End of Summer Blues offer is only for the first 100 wine club members or until the end of March. Take advantage and order this 6 pack today! Buy Now.
Comments