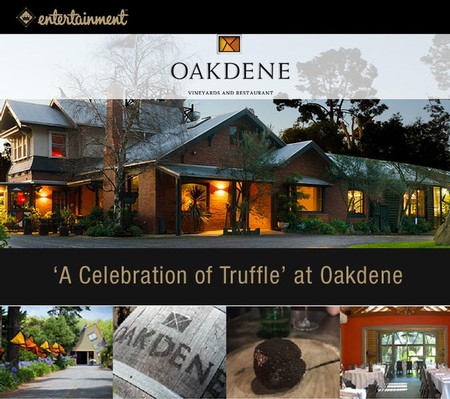 'A Celebration of Truffle' at Oakdene
Entertainment Card Dinner
Thursday 13th August & Friday 14th August from 6:30pm
Special Entertainment™ Members price is $110 per person for 5 courses with matching Oakdene wines (Non Members $150 per person).
The award-winning Oakdene Vineyards Restaurant invites Entertainment™ Members to yet another delightfully memorable dining experience – this year's 'Celebration of Truffle' dinner at Oakdene on the Bellarine Peninsula.
Showcasing a rare delicacy, the truffle, that chefs and foodies alike get excited about, this is a 5 course dinner you can't afford to miss. With the amazing truffle season now in full swing, Oakdene Vineyards Restaurant and special guest Julia Edwards from Europantry, will be celebrating the truffle season with a collection of dishes designed around truffles.

With her vast experience in truffle products, Julia Edwards will discuss the produce used throughout the dinner and will also have truffle products for sale at retail prices on the evening.

Steven Paul, Oakdene's Wine Manager, will also be talking about the selection of carefully matched award-winning Oakdene wines, providing interesting and detailed tasting information on the highly acclaimed wines.

Freshly harvested Perigord Black Truffles from Pemberton, WA will be used in some of the dishes.

This is a rare and exciting dinner and one we look forward to sharing with you. This dinner will be popular and one not to be missed, so please ensure you make a reservation to avoid disappointment. Full payment required on booking – hurry, seats are limited.

You may invite up to 5 guests at this special price. Please note that no Card number will be removed for this event.
To reserve your seats, call 03 5255 1255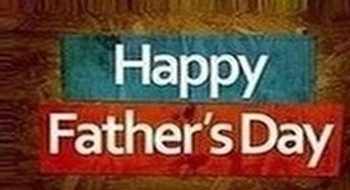 Father's Day Lunch - Sunday 6th September
Oakdene Vineyards Restaurant - $80 pp (excl. beverages)
Mr Grubb Cafe - $49 pp (excl. beverages)
Did you know that Father's Day is a celebration honoring fathers and celebrating fatherhood, paternal bonds, and the influence of fathers in society. Spoil dad this Father's Day with an exquisite 3 course lunch in our award winning restaurant or our new cafe, Mr Grubb at Oakdene.
Bookings are essential & full payment is required to confirm booking.
To book, please call 03 5255 1255 or email restaurant@oakdene.com.au or mrgrubb@oakdene.com.au
Become an Oakdene Wine Club Member
No Minimum Purchases, No Costs & No Fees, Just Savings!!
Unlike other wine clubs, there are no annual fees or membership costs and we don't require you to purchase any wine throughout the year. Just become a member and receive the fantastic wine club benefits on offer.
Simply SIGN UP to the Wine Club and you will immediately be entitled to the following, terms and conditions do apply:
10% discount on all wine purchases at cellar door and online;

10% discount off the total bill when dining at the Oakdene Vineyards Restaurant (Max $30 per visit);

10% discount off the total bill when dining at the Mr Grubb Cafe (Max $30 per visit)

FREE delivery on all wine purchases (VIC only – Minimum 12 Bottles);

Special wine offers & pre-release notifications;

Invitations to our exclusive events.
Tapas at Mrs Hockings Bar
Friday & Saturday Nights from 6:30pm
We are pleased to announce that we are opening Mrs Hockings Bar in the restaurant, every Friday and Saturday night. Relax in front of the open fire while enjoying tapas style dishes from $9.00.
---
Oakdene Vineyards Restaurant
Special Offer
30% Discount
To entice you out of the house on a cold winters evening, we are offering a special weekday winter warmer. Enjoy a 30% discount off your total bill (maximum $40) until the end of September. To take up this offer, use the code words 'WINTER WARMER' when making your booking at 03 5255 1255.
This offer is valid weekdays only from 17/06/15 until 30/09/15. Not available with any other offer.
---
Mr Grubb @ Oakdene
Special Offer
Free Coffee
Coffee (and wine) make the world go around, or so they say. Enjoy a free cup of coffee with any food purchase between 9:30am to 11am weekdays at the new Mr Grubb Cafe by mentioning the code words 'MR GRUBB'.
This offer is limited to one coffee per person and is available weekdays from 9:30am to 11am from 15/06/15 until 30/09/15. Not available with any other offer.
---
Mr Grubb Cafe
Opening Hours
Breakfast: Daily from 9:30am
Lunch: Daily from 12pm
Dinner: Fri & Sat from 5:30pm
Limited Menu: Fri & Sat 3pm to 5:30pm
Dine amongst the Birches at Mr Grubb from our casual a la carte menu or try the 'Set Banquet Style Menu' for larger groups of 12+ ($39 - 2 Courses, $45 - 3 Courses).
Bookings are only required for large groups.
---
Oakdene Vineyards Restaurant
Opening Hours
Lunch: Sat & Sun from 12pm
Dinner: Wed to Sat from 6:30pm
Dine from our a la carte menu or try our new Tasting Menu - 4 courses for $95 per person.
For bookings please phone 03) 5255 1255 or Book Now